Assistant Professor, School of the Environment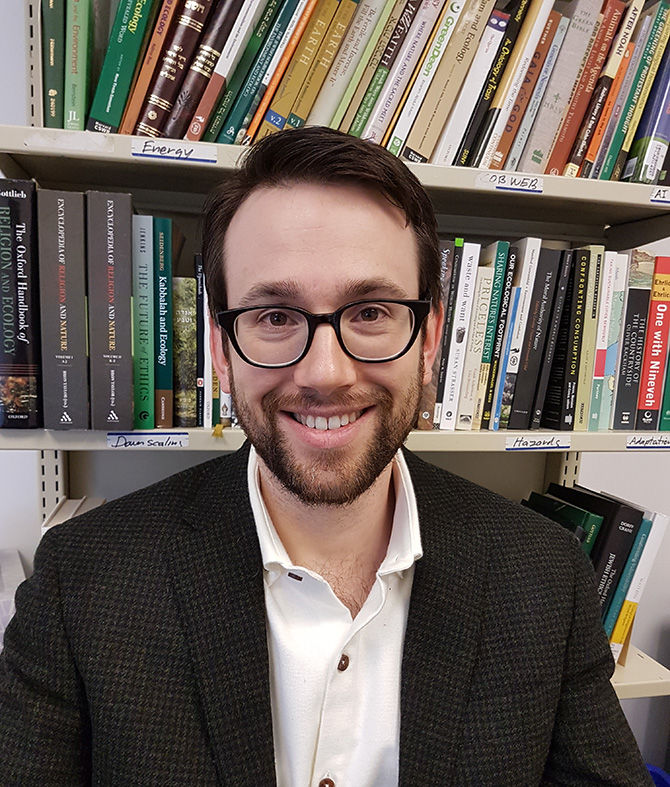 Office: ES2104, 25 Willcocks St. (Earth Sciences Centre, South Huron Block)
Mailing Adress: 33 Willcocks St. Suite 1016V, Toronto, ON, M5S3E8
Phone: 416-978-6484
Email: tanhum.yoreh@utoronto.ca
BA Environment (McGill), MA Geography (Hebrew U), PhD Humanities (York)
Research Interests
Religion and environment
Faith-based environmentalism
Faith-based environmental ethics
Religio-legal approaches to environmental protection
Wastefulness, consumption, simplicity
Current Courses
ENV382 – Waste Not, Want Not: Stories of Wastefulness in Religion and Society
ENV421 – Environmental Research
ENV1001 – Environmental Decision-Making
Book
Yoreh, T. Waste Not: A Jewish Environmental Ethic. Albany: State University of New York Press, 2019.
Selected Publications
Yoreh, T. and S. Scharper. "Food Waste, Religion, and Spirituality: Jewish, Christian, and Muslim Approaches." In Routledge Handbook of Food Waste, edited by Reynolds C., Soma T., Spring C., Lazell J. London: Routledge, 2020. Forthcoming.
Yoreh, T. "Consumption, Wastefulness, and Simplicity in Ultra-Orthodox Communities." Studies in Judaism, Humanities and the Social Sciences 2, no. 2 (2019): 137-152. 
Yoreh, T. "Rethinking Jewish Approaches to Wastefulness." Review of Rabbinic Judaism 22, no. 1 (2019): 31-45.
Yoreh, T. and R. Horne. "Recycling in Jerusalem: Right or Privilege?"  Local Environment: International Journal of Justice and Sustainability 19, no. 4 (2014): 417-432.
Yoreh, T. "Environmental Embarrassment: Genesis 1:28 vs. Genesis 2:15."  In Vixens Disturbing Vineyards: Embarrassment and Embracement of Scriptures, edited by A. Glazer, J. Lewis and T. Yoreh, 558-591.  Boston, MA: Academic Studies Press, 2010.
Yoreh, T. "Ultra-Orthodox Recycling Narratives: Implications for Planning and Policy."  Journal of Enterprising Communities: People and Places in the Global Economy 4, no. 4 (2010): 323-45.